Xur is back in Destiny 2 for another weekend, and he's in a very convenient location. You can find Xur and the new exotic inventory he's selling from December 15 until December 18 in The Tower. His appearance today also marks the second week of his new arrival time. The Destiny 2 weekly reset got an adjustment with the release of Curse of Osiris and Xur is following suit by appearing later than usual.
Below you can learn Xur's inventory, location and arrival time in Destiny 2.
What's in Xur's Inventory Today (12-15-17)?
Xur is has the new Fated Engram and Three of Coins items in his inventory, and four Exotics for you to purchase.
Xur's wares this week are:
D.A.R.C.I. – 29 Legendary Shards
Sniper Rifle
Personal Assistant: When this ability is active, D.A.R.C.I. has better target acquisition and deals more precision damage.
Celestial Nighthawk – 23 Legendary Shards
Hunter Helmet
Hawkeye Hack: Modifies your Golden Gun to fire a single, high-damage shot. Enemies killed by this shot explode.
Mods: Class abilities recharge faster when using a Solar subclass.
Hallowfire Heart – 23 Legendary Shards
Titan Chest Armor
Sunfire Furnace: Greatly improves the recharge of Solar abilities while your Hammer of Sol super is charged.
Mods: Solar melee abilities recharge faster.
Eye of Another World – 23 Legendary Shards
Warlock Helmet
Cerebral Uplink: Highlights priority targets and speeds up regeneration of Rift, Melee, and Grenade abilities.
Mods: Increases the armor's resilience, allowing the player to absorb more damage.
Where is Xur's Location?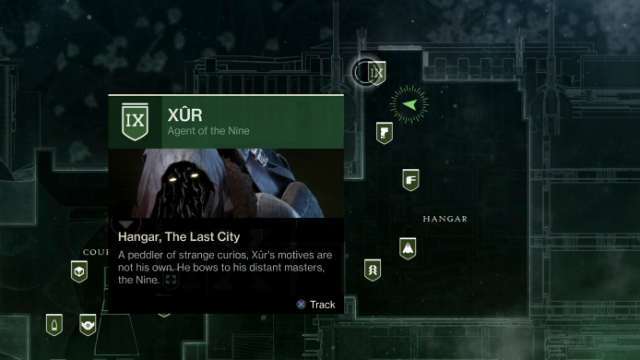 This week Xur isn't on any of the planets. He's actually located (very conveniently) in The Tower. You'll need to go to the hangar and then swing towards the Dead Orbit members. Behind them,  on a catwalk up a short flight of stairs is Xur.
You can likely find him easier if you look for a huge bunch of players darting around him. A warning though. If you try to find Xur using the map in the Director, the waypoint it spawns will stop and get stuck around the entrance to the hangar.
For more info on Destiny 2 and other great games, check out our guide section.