Today's Smash Direct may have brought disappointment in the form of yet another Fire Emblem character, but it also brought some surprise additions to Super Smash Bros. Ultimate's lineup via the fifth pack of Mii Fighter costumes. These include a Smash Bros. Ultimate Cuphead costume and more, available for the usual $0.75 each. We'll break down each of the announced costumes and the costume pack's release date below.
Smash Bros. Mii Fighter Costumes | Release date & character details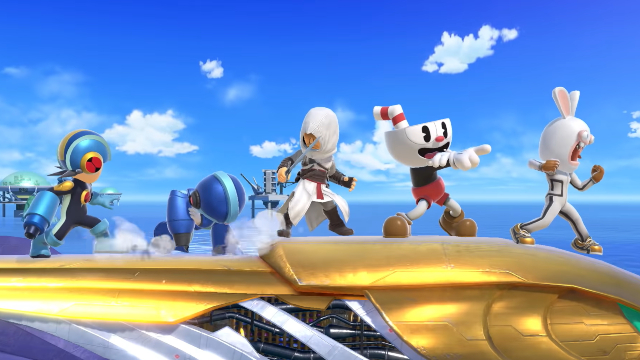 The latest Super Smash Bros. Ultimate Mii Fighter costumes include two Ubisoft game references, two Mega Man costumes, and a Cuphead outfit. Perhaps the strangest of the new costumes is Altaïr, the protagonist of the original Assassin's Creed game. Strangely, the Mii Fighters trailer did not reference Assassin's Creed by name, instead only mentioning Altaïr directly (flashing a "Super Smash Bros. Ultimate x Altaïr" logo onscreen). It's also odd that, of all the Assassin's Creed protagonists, Altaïr was the series' chosen representative. Only Assassin's Creed 3 Remastered and Assassin's Creed: The Rebel Collection (neither of which star Altaïr) are available on the Switch, and if Ubisoft or Nintendo was set on choosing a character not from those two games, Assassin's Creed 2′s Ezio is arguably more iconic. Ubisoft's other appearance in the costume pack is the Rabbids hat, equippable by any type of Mii Fighter.
ALSO: 'HOES MAD' trends after Byleth revealed as Smash Ultimate DLC fighter
Capcom got two new Mega Man series costumes, with both Mega Man X's X and Mega Man Battle Network's MegaMan.EXE. Both of these outfits are exclusive to the Mii Gunner. The DLC's final costume is that of Cuphead's titular protagonist, Cuphead. Much like the previously added Undertale Sans costume, the Cuphead outfit is a rather convincing one — complete with Cuphead's signature finger gun — essentially turning the Mii Gunner into the character. Purchasing the Cuphead costume also gets you a musical track from his game.
All of the new Mii Fighter costumes will be available January 28, 2020, the same day as the new Byleth fighter.