The New World beta might be over, though, with the full launch fast approaching, players are wondering what comes next. Does Amazon Game Studios have a New World DLC roadmap for 2021 and beyond? Here's the need-to-know info on downloadable content, expansions, updates, and patches for the new PC MMORPG.
New World DLC Roadmap: Post-launch support for 2021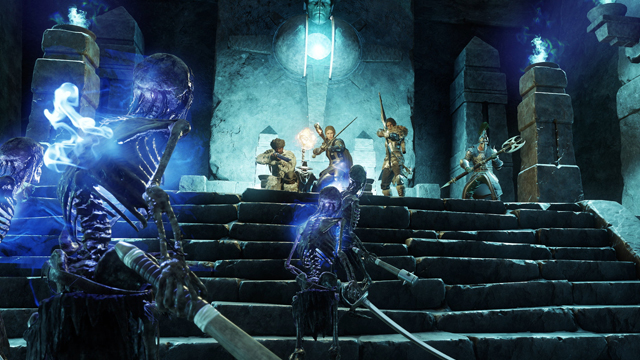 Here's all of the New World DLC:
Pre-order bonus content

Isabella's amulet — Gain additional constitution to weather attacks, plus deal additional damage against certain enemy types.
Guild crest set — Three unique guild crests featuring axes, muskets, and armor.
"Fist Bump" emote
"Expedition One" title

Deluxe Edition content

Woodsman armor skin
Woodsman hatchet skin
Mastiff house pet
"Rock/Paper/Scissors" emote set
New World digital artbook

Additions to the paid in-game cosmetics shop
Free game updates and patches

Bug fixes
Quality of life improvements
Technical upgrades
Balancing tweaks
Should the game perform well, it's possible that Amazon will launch premium New World expansions in the future. It's only possible to speculate on that right now, though it's very common within the PC MMO business model. Stay tuned for updates on the New World roadmap moving forward.
Most of the known New World downloadable content relates to pre-purchasing the game and opting for the more expensive Deluxe Edition. The New World release date is September 28, so there's still time to pre-order and gain access to the in-game Isabella's amulet item and more. Opting for the Deluxe Edition will grant players access to the Woosman cosmetics set, the Mastiff house pet, and more as well.
While the game was in beta, Amazon was quick to launch several New World updates. Should the developers keep to a similar schedule, there will be lots of free downloadable updates and patches to help improve the game. Although perhaps not as exciting, these no doubt comprise a large (and important) portion of the development roadmap.
For more on New World, find out if there are any plans for a console version. If not, does the PC build have full controller support?