OK, I get it. Your game only needs another twenty bucks from 2000 suckers fans. There's no way you could possibly get there if GameRevolution or the rest of the gaming press refuse to cover your massively important indie throwback evolution of the platforming genre. And if some of those would-be suckers fans from GR and other websites donate $100 to your Kickstarter campaign, they'll also get a plush toy of your lead character, Humpy.
The team is really excited and they're almost there. The campaign ends at midnight tonight but you're really excited and you're going to webcast your dev-a-thon so the suckers fans supporters can see you hard at work for their money.
Seriously, I've heard all of this before. You need to stop. It's not going to get you anywhere, least of all in front of our readers. How many Kickstarter projects were weeded out because they were just dumb ideas? What was really wrong with the publisher system? At least when Activision and boutique publishers like Atlus heard all of this crap, we didn't have to wade through it ourselves.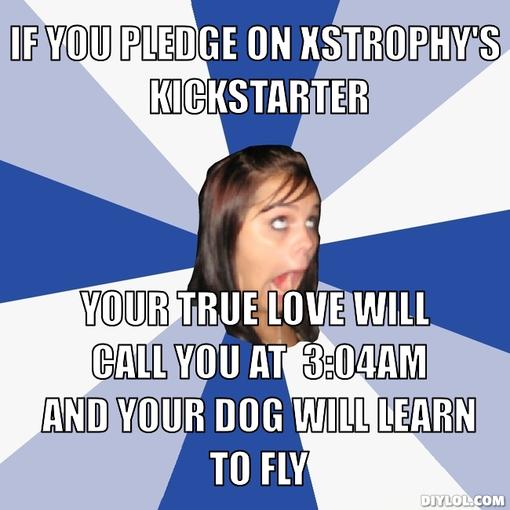 What should you do? Take the monetary goal and shove it up your ass. It means nothing to me. I could not care how close you are or how far you've made it past your original expectations. Instead:
TELL ME ABOUT YOUR GAME.
It's unbelievable how many of you have spammed my inbox with garbage like "art books for top tier donors" or "historic development team" but have told me so little about the project you're actually working on. I don't report on crowd-funding. I report on games.
What's more, on rare occasions, you've even enlisted your existing supporters to spam us and bully us into covering your project, as if they're all finding my inbox because they're big fans of GameRevolution. (I see right through that! I have to WORK at getting users to e-mail us.)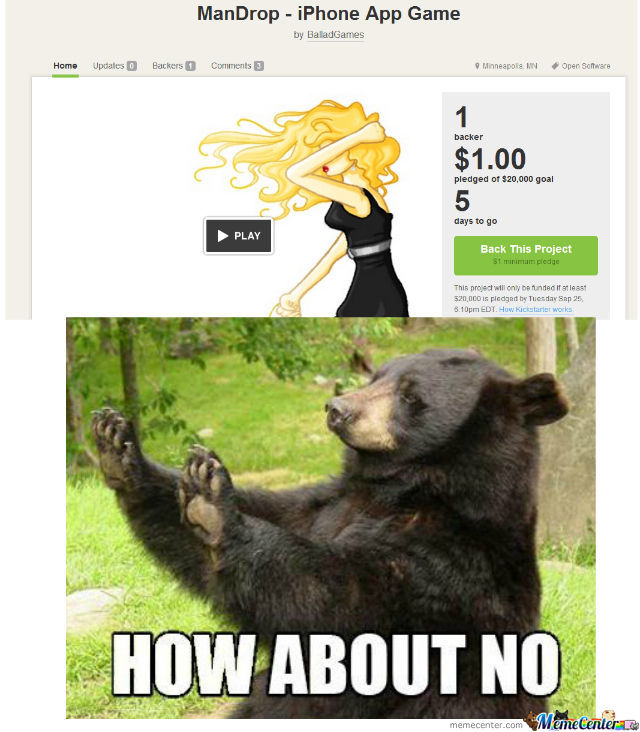 Still, my biggest issue with Kickstarter is the way it's perverted a young developer I had hoped to forge a meaningful relationship with. At GDC this past year, I met a fellow 20-something with a penchant for old-school platformers, Nintendo consoles, and even my beloved Nintendo Power. It was the now defunct magazine that brought us to his current role as a student developer at DigiPen university.
DigiPen sits in Nintendo's old backyard and acts as a breathing ground for development talent who eventually make up the guys behind the scenes of your favorite blockbuster games. I was eager to plant the seeds and see where this guy went. Unfortunately, that relationship was corrupted when I got an e-mail asking for Kickstarter support.
"I'll take you up on your offer," the e-mail said flatly. Oh, well thanks for not leading off with "How're you doing?" or "It was nice chatting with you…." It's best to make clear that you've got your hand out from square one. "The team is going wild…." it continued. Yes, please make sure to hit all those now clichéd beats. "Out of the $125,000 needed by Friday, we're at $100,000…." "Supporters that come in at the $20 level…."
Are you f***ing kidding me? This is not what I gave you my business card for. Not a single word of the e-mail was spent telling me what the game was or why the readers at GameRevolution might want to check it out. This guy couldn't even be bothered to attach a screenshot or link to some gameplay on YouTube. I'll say this again:
TELL ME ABOUT YOUR F***ING GAME.