New World is Amazon Game Studios' ambitious MMO, which is currently in closed beta. Unfortunately, by its very nature, that means not everyone can play. So, is there a New World open beta coming up? Here's the latest on a public beta test for the brand-new MMORPG.
Will there be a New World open beta?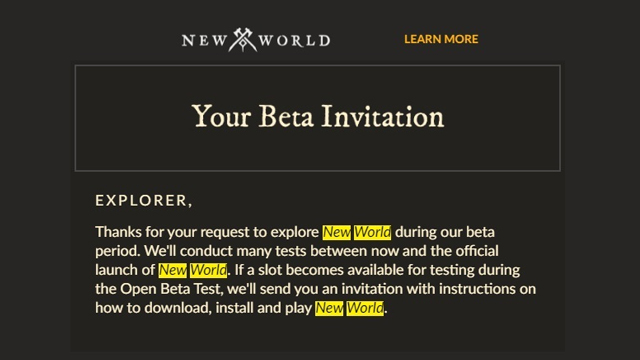 The New World closed beta runs from July 20 to August 2, 2021. Anyone that applies to join the closed test should receive an email mentioning a New World "Open Beta Test," which could run anytime between August 2 and August 31, 2021.
It's possible that this is a typo, as the sentence begins: "If a slot becomes available for testing during the Open Beta Test," which doesn't really make much sense. A New Wold open beta shouldn't feature limited slots or require any form of specific invitation. As a result, this may be an error and not indicative of Amazon's actual plans.
On the other hand, it could be a slip-up and players may see a New World open test in the near future. If it does go ahead, the open beta is likely to start on or after Monday, August 2. This is when the closed beta ends, leaving a decent chunk of time to run a New World open beta ahead of the game's August 31, 2021 release date.
Amazon is yet to officially address New World open beta test plans, so only time will tell whether the email is accurate or not. Stay tuned to GameRevolution for updates.
Until then, here are the latest New World patch notes. It's also worth bookmarking the benefits associated with factions, just in case the open beta test actually happens.
In other news, Witcher fans will soon get to feast their eyes on another bath scene. There's also a new Tom Clancy game on the way, XDefinat, which gamers can sign up to play early.