The One Piece Odyssey Deluxe Edition comes with many additional items and bonuses for its hefty $84.99 price tag. So it's no wonder that many One Piece fans are wondering whether this special edition is worth the additional $25 over the Standard Edition, or if the more expensive Collector's Edition is much better. Here's our recommendation on whether the One Piece Odyssey Deluxe Edition is worth getting on PS5, PS4, Xbox Series X|S, or Steam.
Is the One Piece Odyssey Deluxe Edition worth buying?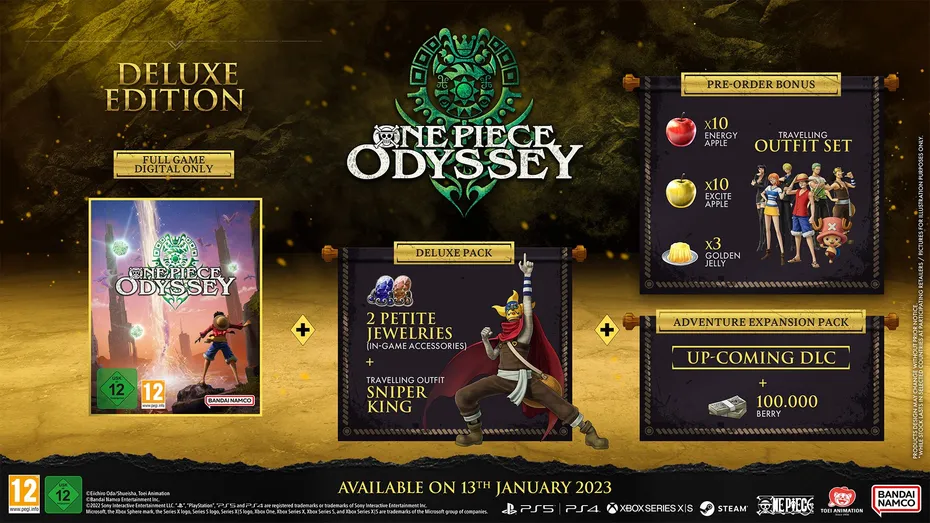 Most likely, no. The One Piece Odyssey Deluxe Edition is only worth buying if you want to accelerate your party's progress slightly and if you want to pay for some DLC ahead of time.
The $84.99 Deluxe Edition will get you the following:
Full digital One Piece Odyssey game
Deluxe Pack

Drop Rate Up Petite Jewelry – In-game accessory that increases drop rate of loot and items from enemies
HP Conversion Petite Jewelry – In-game accessory that restores health points when the user attacks
Sniper King traveling outfit (cosmetic)

Adventure Expansion Pack

Access to an unannounced upcoming DLC
100,000 Berries (just currency)
At this point, it's unclear how much the two Jewelry accessories will help you in the game, and you may come across accessories during the course of your journey that are better to equip. The extra 100,000 Berries sounds nice, though this depends on how hard it is to grind out that much currency. The additional story DLC is also unspecified, so we think it's better for you see if you like the game's story first before getting anything extra.
If you can afford the Collector's Edition, which seems exclusive to the Bandai Namco EU store and priced at €159.99, you will get a steelbook, postcards, collector's box, and a Monkey D. Luffy & Lim figurine. It's unfortunate that the limited steelbook is only available in this edition.
For more guides on One Piece Odyssey, here's whether the game is coming out on Xbox Game Pass and Nintendo Switch.