A fair, clean fight, but stiff and lifeless too.
While it's become standard practice for companies like Capcom to re-release fighting games with patches, additions, and a new subtitle, SEGA is now following this trend by re-releasing Virtua Fighter 5, one of the earlier games of this generation that hasn't seen an release on consoles in years. Repackaged as a downloadable title, this 'Final Showdown' version released two years ago in Japan rebalances and tweaks various aspects of what some consider to be a top-notch fighting game.
Unfortunately for Virtua Fighter, there isn't much new content to begin with in its fifth installment, and not much has been added in here, either. There are 19 playable fighters, with one being brought back from an older entry and only a single character being genuinely new to the series, making for only two extra characters. Granted, this is in a downloadable format, cheaper than the disc releases, so it's a little more passable, but I would make the argument that the recently released Skullgirls with only half of the cast count has a much more interesting, energy-infused roster of characters to pick from.
Virtua Fighter 5's characters are so flat that they feel like cardboard cutouts that happen to be hitting each other. They hardly speak, their faces don't animate much, their designs are generic, and they don't even have character endings when the Arcade Mode is finished. While I don't believe a fighting game needs a story to be interesting, it should at least have engaging, lively characters, since those are the key focal point of the presentation. As it stands, Virtua Fighter 5 sports some smooth body animation and its music and environments (including some new arenas) come together fine, but bland character designs and woefully outdated sound effects from mid-'90s arcade machines don't mesh together well.
People who come into this experience not caring so much about those aspects will potentially be pleased with what has made the series last until a fifth entry: the fast, fluid combat. A playthrough of the relatively effective tutorial and a look at the command list will quickly make newcomers realize that there is a lot of depth and technical finesse involved. Timing, input, and reactions are what this title's really about, to the point where even 'teching' grabs (escaping them) involves not only a button press but simultaneously moving in the same direction the attacker is trying to throw you in. If that sounds like a mouthful, then this probably isn't the fighting game for you.
Aside from the tutorial and basic Arcade and Time Attack fare, there's actually not much else here. A 'Title' mode can liven things up for a little while, forcing players to work through small gauntlets of fisticuffs while accomplishing certain tasks, all without losing a match in the process, of course. The player's 'Title' is moved up a grade as these challenges are completed.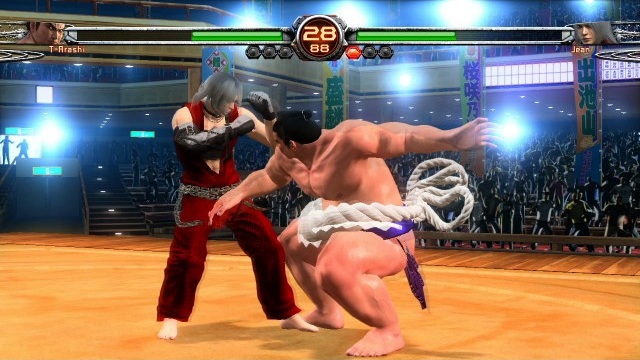 There is a customization element to the game, but from what I could tell, old outfits and appearance elements are all currently locked out until they can be pushed via DLC – I'm willing to bet for a price. It's one thing to lock content out of the gate and charge for it, which is obviously a rough topic, but it's entirely another to actively remove content that originally existed in a supposedly enhanced version, only to charge separately for something that could originally be unlocked by playing the game.
As for its online offerings, the game features some enhanced functionality, with eight-player lobbies and replay saving. Assuming that the game features relatively lag-free online, the dedicated players who care more about the raw, unadulterated pacing of a technical fighter have a fine-tuned and rebalanced game to enjoy. People wanting to chew into a deeper, more complicated fighting game may find the $15 price point and smaller cast of characters and modes to be an effective step up from the rest of the fighting game chaff.
This rendition of SEGA's aged fighting franchise doesn't bring that much new to the table. Dedicated fans of the genre who maybe have gotten tired of the madness of Marvel vs. Capcom or other more crazy modern fighting games might appreciate this slightly enhanced and tweaked technical fighter. Most others, I'm afraid—myself included—probably won't find much to invest here.

Code provided by publisher. Review based on Xbox 360 version.
Tutorial walks through mechanics

Plenty of subtle strategy and complexity

Fair, balanced mechanics don't feel cheap

General presentation is dry, dull, lacks life

Unlocks via gameplay replaced with DLC

Not much variety in modes or incentive to play alone