Show no restraint. Win at all costs.
Punching, kicking, head-butting—these tools allow a fighter to bruise, break, and bloody a willing opponent. I tried those moves in the GR office during Microsoft's launch of the first Kinect for Xbox 360, but with a willing virtual opponent. I discovered that camera-based brawling, where every punch gets thrown into nothingness and leaves you feeling sore and unsatisfied, sucks, to put it plainly. Fighters Uncaged was a sloppy, poorly written mess that guided me through endless tutorials where broken controls kept me from progressing beyond extreme difficulty walls. Don't expect anything less from Fighter Within, Ubisoft's next-generation Kinect fighter for Xbox One.
Whether you're playing single-player or multiplayer, there's little hope for enjoying Fighter Within for more than even ten minutes at a time. Once you've pulled off every move in choreographed order, you can just sit down and be done with it. Even if you can lock down Fighter Within's moveset, Kinect will fight you every step of the way. Unintuitive design, bad writing, and persistent flailing can make any gamer hurt after an incredible investment such as a newly launched console.
A lot of people say reviews shouldn't consider the cost, that we should judge games or movies or whatever on merit. Unfortunately, I only see price tags when I'm playing Fighter Within, starring street punk Matt and a cast of throwaway characters for us to wail on. You'll take the destined street urchin against Vince, a British kickboxing champion who runs the Phoenix School of fighting but really just barbs you all day. How about Vân, who wants to win a gold medal at The Olympics for her mother who had to return a medal in disgrace? Sabina looks like the Sambo-style spawn of Jennifer Lopez and Nathan Drake, if the Uncharted star were Russian. The writing's cheap, and the motion controls have an even more complicated cost.
With a next-generation Xbox One console and next-generation Kinect camera, you'd expect the mechanics of a fighting game to work thanks to increased fidelity of recorded motion. And you will be disappointed. You can throw punches that won't be recognized, you'll have trouble distinguishing inputs between straights and hooks, or you'll throw kicks but they won't be recognized so you'll throw a second kick which comes too early for your combo. The fact that the game can even recognize a combo of five hits might raise your spirits, but in the heat of combat you need to flail too fast to pull off fancy maneuvers.
To get the most out of Fighter Within's controls, you have to be incredibly restrictive with your movements to maintain fine control. You can throw your opponent, hit them with special moves, and even do acrobatic damage contextual to your point in the 3D arena. I managed to pull all of these moves off in-game, but not without an entire raging dojo of difficulty and frustration. All the variety is great, but not all of it makes sense or feels satisfying to pull off, especially when the controls and difficulty can force you to spam five-punch combos to win. It's clear the price of developing this game has been added to Xbox One's out-the-door package in an effort to prove Kinect's worth.
Microsoft wants your wallet to put 'em up for their all-in-one entertainment device but anyone interested in virtual fighting should look to Killer Instinct, fast. Kinect might track your heart rate, but not after you've kicked it in a rage after trying and failing to interact with Fighter Within's menus. Ubisoft and Microsoft must have come to some agreement as to how much money would justify a game like this and some part of that exchange has been handed off to early adopter Xbox One owners. I didn't start to question the difference in PS4 and Xbox One price until Fighter Within, because while both console manufacturers are making a lot of money on their new hardware, Sony didn't have enough to fund this disaster.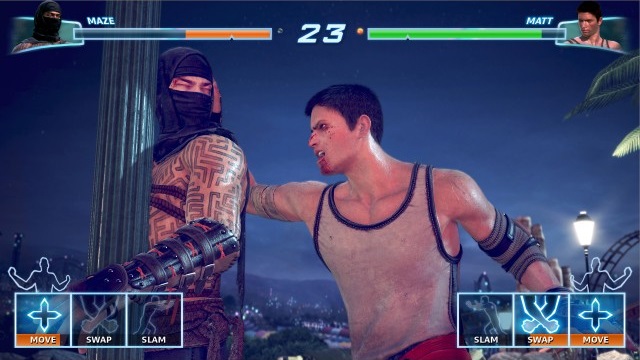 Ubisoft wastes no time getting you into the fight, a marked improvement over Fighters Uncaged which forced you to fight your own dad repeatedly. Unfortunately, Fighter Within is the best deterrent for actual fighting as it'll leave a scar. Despite the half-hearted writing that'll leave your eyes somehow rolling in disgust and crossed in confusion at the same time, you get control of Matt and start fighting that British prick Vince just as soon as you get through the menus which, again, can feel impossible at times.
This camera is supposed to track my heat signature, count my fingers, and change the action in-game as my heart starts to race, but it can't tell that I'm pushing my hand forward to select a character. I don't even want to open the Pandora's Box of Woe and Misery that'd come from caring about the game's graphics. As a game, Fighter Within scrapes the bottom of the barrel and comes up with a shrug. Whatever Ubisoft has learned from their two Kinect fighting games thankfully hasn't changed their excellent franchises. Trying to jam through fights with five-punch combos will make you hurt just as much as recreating the top 25 greatest Wimbledon sets in Wii Sports.
If I can leave you with one thing before you leave this page, it's that you should not play this game. Don't spend money on it. It's meant to be bundled with these consoles for suckers so eager to play with the latest in-home ripoff technology that they'll spend more money to get games they don't want with it.
Copy provided by publisher. Exclusive to Xbox One.
Detects movement when you're precise and controlled

Forces you to "mash" combos with some crazy difficulty

Camera can misread your moves

Menus don't work

Physical exercise

Bad writing and annoying characters

Little to no plot or character development

Hurts to play