League of Legends fans are eating well these days. The exciting Worlds 2021 tournament recently concluded, Netflix's terrific Arcane is set to debut its third and final act, and Riot Games released two surprise spin-off games in the form of Ruined King and Hextech Mayhem. While the IP may not be a household name just yet, Riot is making the right moves to eventually achieve this. Now, in collaboration with Logitech G, the PRO series' League of Legends Collection offers some of the brand's best equipment with a LoL tint.
Logitech LoL Collection Review: Is it worth buying?
The collection includes the Logitech G PRO X Gaming Headset, the Logitech G PRO Wireless Gaming Mouse, the Logitech G PRO Mechanical Gaming Keyboard, and the Logitech G840 XL Gaming Mouse pad. Each adopts the same LoL-infused color scheme of 'Hextech Magic blue' and 'Hextech Metal gold,' which Arcane viewers will recognize as the colors worn by the Piltover Wardens. There's no Zaun representation here — this design is firmly based on the City of the Progress, which given Zaun's ramshackle aesthetic, is probably for the best. There's no doubting that these designs are gorgeous, and can easily be appreciated even if you aren't a League of Legends fan. Even the mouse pad, which features artwork that realistically portrays the Summoner's Rift base, is firmly free of the tackiness that typically accompanies franchise-themed limited-edition releases.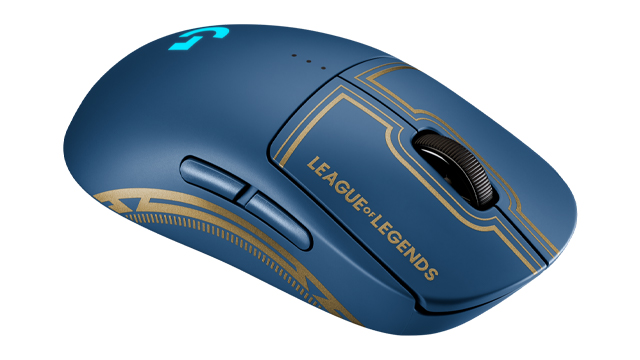 The hardware itself is familiar for all the right reasons. The G PRO Wireless Gaming Mouse is used by many League of Legends pros due to its lightweight design (just 80 grams!), its highly accurate sensor, and its super-fast wireless responsiveness of around 1 ms. While its look may have changed for this collection, this is the same mouse you'll have seen at Worlds, from its ambidextrous design to its modular buttons. This ranks up there with the best gaming mice I've used and is a great example of how far wireless technology has come in this department.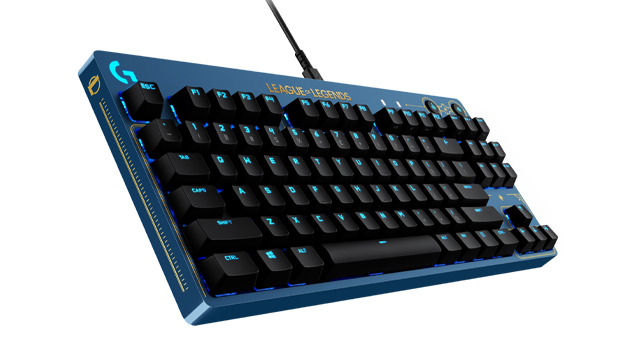 The G Pro Mechanical Gaming Keyboard is also impressively responsive; boasting an incredibly low latency of around 5 ms, you'll notice no lag here. Its Hextech design is also complemented by Lightsync RGB, customized via Logitech's G Hub software, which is surprisingly intuitive and simple as far as this kind of software goes. It's not as comprehensive as something like Razer's Synapse software, but it gets the job done.
The brown switches are a step-up from the blue featured in the original G Pro Mechanical Gaming Keyboard, leading to quieter clicks that make it more useable in an office setting. We're not entirely sure which workplace you'd want to take a custom League of Legends setup to, but still, the option's there.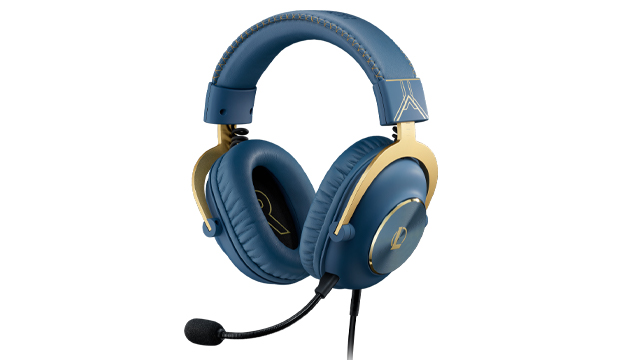 But it's the compactness and ease of use of this collection that really makes it stand out, on top of its new LoL theme. It's easy to unplug the wired keyboard and pack it away, its tenkeyless design keeping it lightweight and stripped-back, while the same can be said for the mouse and the G Pro X Gaming Headset, which is similarly lightweight. And this headset is a real selling point for the entire collection; not only does the G Pro X headset benefit the most from the gold and blue design, but its Blue microphone makes it one of the best headsets on the market for communicating with friends — there are a variety of options here for voice settings, from Broadcast through to AM Radio.
Logitech G League of Legends Collection Review: The final verdict
The Logitech G League of Legends Collection is a great set for any LoL fan. It may not be as eye-catching as Logitech's previous K/DA collection, but its gold and blue design gives it a wonderful premium feel that's befitting of the hugely popular Arcane show, while the selection of featured hardware ranks among Logitech's best.
Hextech-inspired design sure to please Arcane fans.

An excellent collection of hardware.

Super impressive mouse used by the pros.

The G Pro X Gaming Headset's fantastic Blue mic technology.

Compact, tenkeyless keyboard design.

Not as eye-catching as Logitech's K/DA gear.