The new Fortnite Week 9 challenges have been revealed earlier than expected, thanks to the Fortnite tracker app which reads hidden data found within the game's files. Those who have picked up the Fortnite Battle Pass will have seven new challenges to complete this week, ranging from dealing damage to enemy structures, to searching for chests in Haunted Hills.
As Fortnite Season 3 draws to a close, players are now encouraged to start focusing on all uncompleted challenges. While it's possible to go back and complete any of the Season 3 challenges during the same season, it will soon be over, with Battle Stars and XP lost. Consider this during the final couple of weeks!
Here's a full breakdown of the Fortnite Week 9 challenges, and the rewards gifted upon their completion.
Fortnite Week 9 Challenges: The Objectives
The Fortnite Week 9 challenges shouldn't be too tricky for players to complete. The easier objectives require players to deal damage to enemy structures, search for chests in Haunted Hills, build structures and visit Taco Shops in a single match. (We'll have a guide for the latter going live very soon!) The "Hard" challenges task players with getting shotgun kills, eliminating opponents in Lucky Landing and following the treasure map found in Moisty Mire. (We'll no doubt have guides on these, too!)
Deal damage to opponents structures (5000)
Search Chests in Haunted Hills (7)
Build Structures (250)
Visit different Taco Shops in a single match (3)
Follow the treasure map found in Moisty Mire (1) (HARD)
Shotgun Eliminations (4) (HARD)
Eliminate opponents in Lucky Landing (3) (HARD)
Fortnite Week 9 Challenges: The Rewards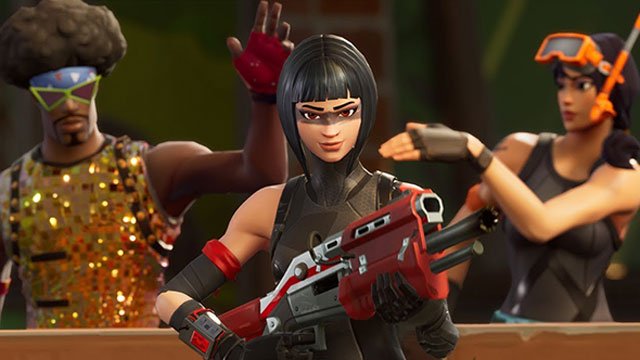 As always, players who complete the Fortnite Week 9 challenges will receive XP and Battle Stars.
4,000 XP is on offer for completing all of the challenges. Additionally, there are four sets of five Battle Stars for the normal difficulty tasks, while hard challenges will each award players with 10 Battle Stars.
Once all seven Fortnite Week 9 challenges have been completed, and the rewards have been received, it'll be time to wait for next week's reset, where the Fortnite Week 10 challenges will be waiting for you!
(via Fortnite Tracker)
More Good Stuff:
Fortnite Controversies
Fortnite Controversies: Ninja Uses the 'N Word'

Fresh off of his stream with Drake, Ninja appeared on a live stream and used the "n-word" while rapping. After being called out, Ninja apologized and said: "There was no mal intent (I wasn't even trying to say the word-I fumbled lyrics and got tongue tied in the worst possible way)." Read more.

It's Banned in Schools

Fortnite has been banned in schools, with the mobile version of the game causing kids to pay more attention to Battle Royale than their studies. However, clever schoolchildren found a way around this, developing their own primitive versions of the game using the web-based platform Scratch. Read more.

Sony Doesn't Want Fortnite Cross-Play

Sony doesn't want PS4 owners to be able to play with those on Xbox One and PC, with Fortnite continuing to be a prime example of this. Not only can owners of both consoles hop into a game with one another, but Sony has also blocked V-Bucks from being shared across platforms. Read more.

Drake Plays Fortnite

Celebrity involvement in video games is always controversial, though Drake and Ninja's joint stream on Twitch was mostly praised for introducing a wider audience to the game. Ninja would later find himself embroiled in controversy, but this was a cool moment while it lasted. Read more.

PUBG Devs Hate It

PUBG dev Bluehole isn't a fan of Fortnite, with the studio previously criticizing the battle royale game for being too derivative. This led to the (false) rumor circulating that Fortnite is shutting down as a result of a lawsuit from PUBG's creators. Read more.

Tilted Towers Needs a Replacement

Tilted Towers has become such a popular landing location that players have grown to hate it. This has led to multiple fake locations being drawn up by hoaxers, though Epic has yet to officially announce a replacement for the area. Read more.

Fortnite Becomes the Biggest Game on Twitch

League of Legends had dominated Twitch for years, though Fortnite knocked the game off its pedestal back in March, becoming the most-viewed game on the site. Its popularity shows no signs of declining. Read more.

Free V-Bucks! (But Not Really)

V-Bucks are Fortnite's in-game currency, used to buy cosmetic items and passes that unlock the game's challenges. With Fortnite being so popular, many sources claim to offer these for free, with them more often than not proven to be scams. Many have fallen for these scams, and they continue to be a problem in the game's community. Read more.

It Only Took Two Months to Make

Fortnite is one of the biggest games in the world, though its battle royale mode was something of a last-ditch effort to revitalize the base game. This is evidenced by the fact that it only took two months to make. Read more.