Episode 9 of What If? is finally here. Gamora returns for the intergalactic adventure, as the threat of an Infinity Stone-armed Ultron builds. If you're familiar with the character, you'll know she's played by Zoe Saldana in the Guardians of the Galaxy movies. Does she return for What If? episode 9? We dig into whether Zoe Saldana is the Gamora voice actor.
Does Zoe Saldana voice Gamora in What If? Episode 9?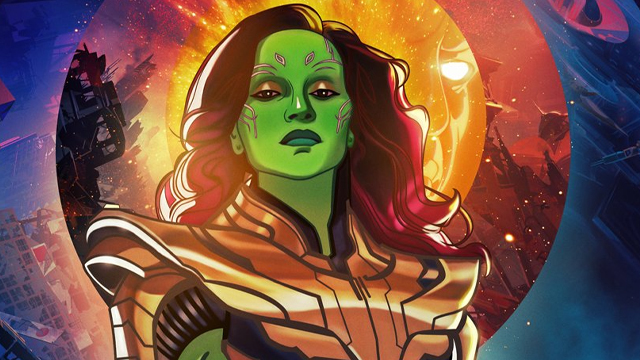 Sadly, Zoe Saldana does not return to voice Gamora in What If? episode 9. Instead, she's voiced by Cynthia McWilliams.
Yes, Zoe Saldana is one of the few MCU stars not to return for this animated series. A lot of big names have reprised their roles, including Chris Hemsworth in last week's Thor-centric episode. However, others like Robert Downer Jr. did not come back, and Zoe Saldana joins this list.
In other animated Marvel installments, Gamora is voiced by several different actors. Vanessa Marshall plays Gamora in the Guardians of the Galaxy animated series, while Nika Futterman takes on the role in the Avengers Assemble cartoon. Either of them could've returned for this episode of What If?, but it ended up being Cynthia McWilliams.
It's a big episode for Gamora, too, as prepares to come face-to-face with the gauntlet-wielding Ultron. Having never met the Guardians in this continuity, she remains outside of the law. In this adventure, she wields Thanos' iconic double-edged sword.
While Zoe Saldana doesn't make an appearance in this episode, we may get to see Gamora soon. She hasn't been confirmed to reprise her role in Thor: Love and Thunder, as her character died in Avengers: Infinity War. However, with that film and an upcoming Guardians of the Galaxy sequel featuring the rag-tag team, she could easily appear in flashbacks.
If you want more What If?, you're in the right place. Check out our review of the latest episode, as well as details on whether it has a post-credits scene.