Play some football… kicks!
El fútbol es uno de los mejores deportivos del mundo. Es un juego emocionante y excitante, quién podría pedir por más? Oh, sorry, I'm getting a little ahead of myself. It's hard not to feel a bit of the passion from these international sport games. As I was saying, though, football soccer is definitely thrilling and exciting. So it's unfortunate that the United States has one of the smallest football fan base in the world. Despite the disinterest, video games like FIFA and I guess Pro Evolution Soccer too seem to sell quite well here in the U.S.
Pro Evolution Soccer or PES has now been around, quietly, for over a decade. Living in the shadow of its much more successful competitor, EA's FIFA Soccer, PES 12 is looking to make heads turn. And developer Konami, have done just that. But instead of turning towards the game, people might just want to look away. It's really not that bad, but after the main course FIFA served me up this year, Gooooal! Or was it? has left the dessert plate a little empty.
Playing this game is like driving Ms. Daisy; everything is slowed down and explained as if it were teaching a preschooler. Okay, Konami, I get that your controls are different than every other football game. No, I don't want to try them out in the "skills challenge". Yeah, yeah, thanks for all the help. Can I play a match now? What do you mean I have to create an avatar? Fine… now can I play? Create a character?! AHHH! I struggled for an hour just to get into an actual match.
Once I finally got into a game, though, I was all smiles. Player introductions, national anthems, chanting crowd—it gives a full taste of a real football game. Then the kick-off got underway and my smile turned into one of those back-slash grins people like to send in texts. Now I'm not a graphics snob, but the movement engine is funky. Players don't seem to flow when running around with or without the ball. It feels like the computer.. has… to… think… of… each… step… before… taking… it. On the upside, the animation for scoring a goal is awesome—mechanically the best graphics you'll get here—and the selection of celebrations to choose from is staggering.
What PES 2012 lacks in quality it sure makes up in quantity. The different modes include exhibition, a few different season types, on-line play, and Football Life. Much like FIFA's "Be a Pro", Football Life is geared around controlling one player to give you a footballer's pro experience. Locked to a character of your creation, you must grind out that player's career.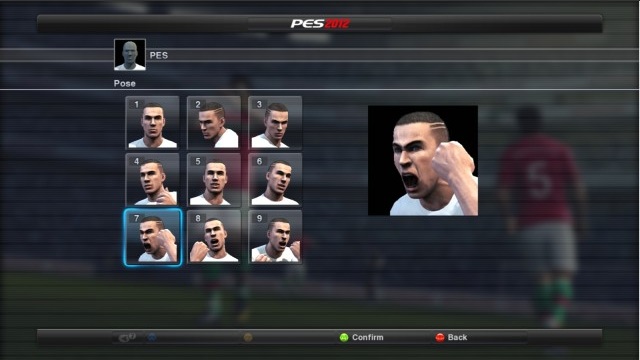 Starting off at the bottom rung and working up to being one of the world's best, you play in the hopes of winning and finally retiring as a sure Hall of Famer. During seasons, your player is even subbed in and out of games like a real rotation. The down part is you can't skip the time your player is on the bench, only fast forward. This gets boring fast. Now would be the perfect time to play fetch with Woofy, as you wait until your next tag in.
The biggest addition to this year's title is the ability to control two players at once. Now, while dribbling the ball with one player, you have the option to move around another player at the same time. This can be tricky, but if mastered, it's a handy skill that will result is some fast break, on-goal shots. Fortunately, you may turn this on or off depending on your preference.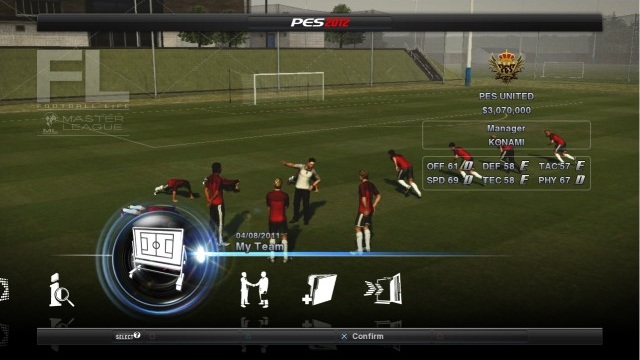 Konami doesn't have all of the exclusive rights to trademarks like FIFA has, so don't expect to see all the official branding you may want to see. Some kits, stadiums, players, and even leagues are missing. I searched high and low, but not even the M.L.S. is featured. We can be honest, though: Who actually uses the M.L.S. when picking teams and leagues?
To put it frankly, unless you are some die-hard, old school fan of Pro Evolution Soccer, save your pennies and stick with FIFA. PES 2012 isn't a terrible game at all, but head-to-head, it's not the one controlling the ball; it puts on a show that your little brother might like. But for now the curtains should stay closed until the production grabs an identity. Cristiano Ronaldo is on the cover. though… that has to mean something… something…
Review is based off the PS3 version. Konami provided the review copy.
Plenty playable content

Fantastic scoring celebrations

Unsmooth player movement

Lengthy creation set-up

Lack of official licensing